Our Level 3
Body Massage Course covers and all you will need to know to qualify and practice as a Professional Massage therapist.
Course Objectives
History of Massage
Health & Safety, Data Protection & Professional Ethics
Anatomy & Physiology
The Skin
Muscular System
Skeletal System
Lymphatic System
Blood & the Circulatory System
The Nervous & Endocrine System
The Respiratory, Olfactory and Digestive System
Contra-indications , contra-actions and benefits to Massage
Consultation Forms & Preparing for a Treatment
Hygiene & Professional Etiquette
Massage Media
Massage Movements
Manual Massage Routines
Homecare and Aftercare Advice
The course has a pre-requisite of Level 3 Anatomy & Physiology, and you will also be required to complete the Home Study reading and questions and answers, which will need to be submitted to your tutor before the training day.
This allows for an intensive two days of practical training of the routine with your tutor.
Please note: To attain a Level 3 qualification, you will be required to complete and record 100 hours of case studies. These may be individual treatments, or treat 20 people 5 times.
Completed at your own pace, with no time limit.
This course is double accredited with both the Complementary Medical Association and The International Institute for Complementary Therapists.
Price £350
PLEASE NOTE – **We offer bo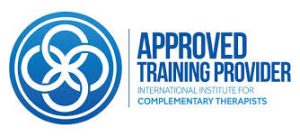 th our Level 3 Anatomy and Physiology and Level 3 Massage together in a seperate special price bundle of £500**