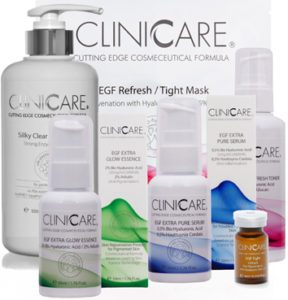 Based in Sweden, ClinicCare ® are a leading expert in applied scientific cosmeceuticals, which deliver optimal concentrations of pharmaceutical grade small molecular weight Hyaluronic Acid, vitamins, antioxidants, peptides with Epidermal Growth Factors (EGF) and other power active ingredients. These act where they are needed the most – below the skin's surface – to rejuvenate from within and improve overall skin health and appearance. ClinicCare ® use state of the art technology to ensure the highest levels of quality and safety and to deliver outstanding results.
Lunchtime Glow Facial                             £25                       30mins
Includes, Cleanse, Instant Painless Peel,Toner and Moisturiser
ClinicCare Facial                                      35                          60mins
ClinicCare Chemical Skin Peels               £75                      75mins
Course of 3 Skin Peels                              £195
AHA/BHA Chemical Peels
The ClinicCare® Alpha/Beta Hydroxy acid chemical peels contain a mixture of Glycolic, Lactic and Salicylic acids for penetration of the stratum corneum and epidermis.
At Omni Therapy Rooms we are able to treat a variety of skin issues with ClinicCare Peels:
Glow AHA Peel – for hyperpigmentation, age spots and dull tired skin
Pure BHA Peel – for troubled and/or sensitive skins and acne conditions
Refresh AHA Peel – for fine lines, wrinkles and skin rejuvenation
All ClinicCare Skin Peel treatments include, a full cleanse, exfoliation, bespoke skin peel, toner, AHA & EGF Skin Booster, bespoke sheet mask to compliment the peel, moisturiser and SPF